Why you should invest not only in your body, but also in good, strategic marketing.
The other day in front of the mirror: What a cool six-pack … I would like to have, but unfortunately I don't have it yet. So I quickly started a desk research with the question "Six pack in six days". The result: sobering. The realization quickly set in: if you want to have muscles, you have to work on it in the long term. Even the best workout won't work from one day to the next. Oh great. I guess I misjudged the correlations of muscle growth. Well, I realized it right away, but at least I put it at the top of my personal goal list for 2021.
By the way, I was talking about the target agreement. As life goes, I had another call with a very valued customer on the same day. It was about – no, not his or my six-pack – the expected impact of an insanely good marketing campaign. In other words, the return on investment (ROI), that which we can compare with the investment in the campaign at the end as revenue. After all, the expectation here is already that it will be quick. Something like this: Today we went live and by the end of the week we can already see the first results. Or not? Well, that's what I think to myself, and I also think about the morning experience in front of the mirror at home – unfortunately, it doesn't work quite that simply and directly. He then also saw it right away. Cellular six-pack and marketing impact probably have more in common than one might think at first glance?

Really. Whether it's the rectus abdominis muscle, the obliquus externus abdominis muscle or the iliopsoas muscle – none of these organs can be trimmed to maximum performance overnight. The interested reader suspects that the same applies to marketing. Because the fact is: If you want to achieve something for your six-pack, you have to specifically work individual muscle areas in the workout. Preferably one after the other. And preferably over a long period of time, again and again. Just like in marketing.
---
Do you have money to spend or a business to lead into the future?
So, how do we get a strong ROI? While ROI is calculated quite simply as the quotient of revenue divided by effort, this value is only the end of a long chain of building blocks that build on each other and must be controlled separately. Let's take a closer look at a few of them:
There is, for example, cost per click (terms that are in high demand cost a lot of money in the online ad sector), cost per conversion (how many ads do I have to play out until someone clicks), through marketing qualified leads (at last we have found someone with budget, authority, need and deadline pressure), to sales accepted leads (i.e. those that sales then gratefully accepts), and finally to the deals won, which, multiplied by the deal size, characterize the target revenue figure.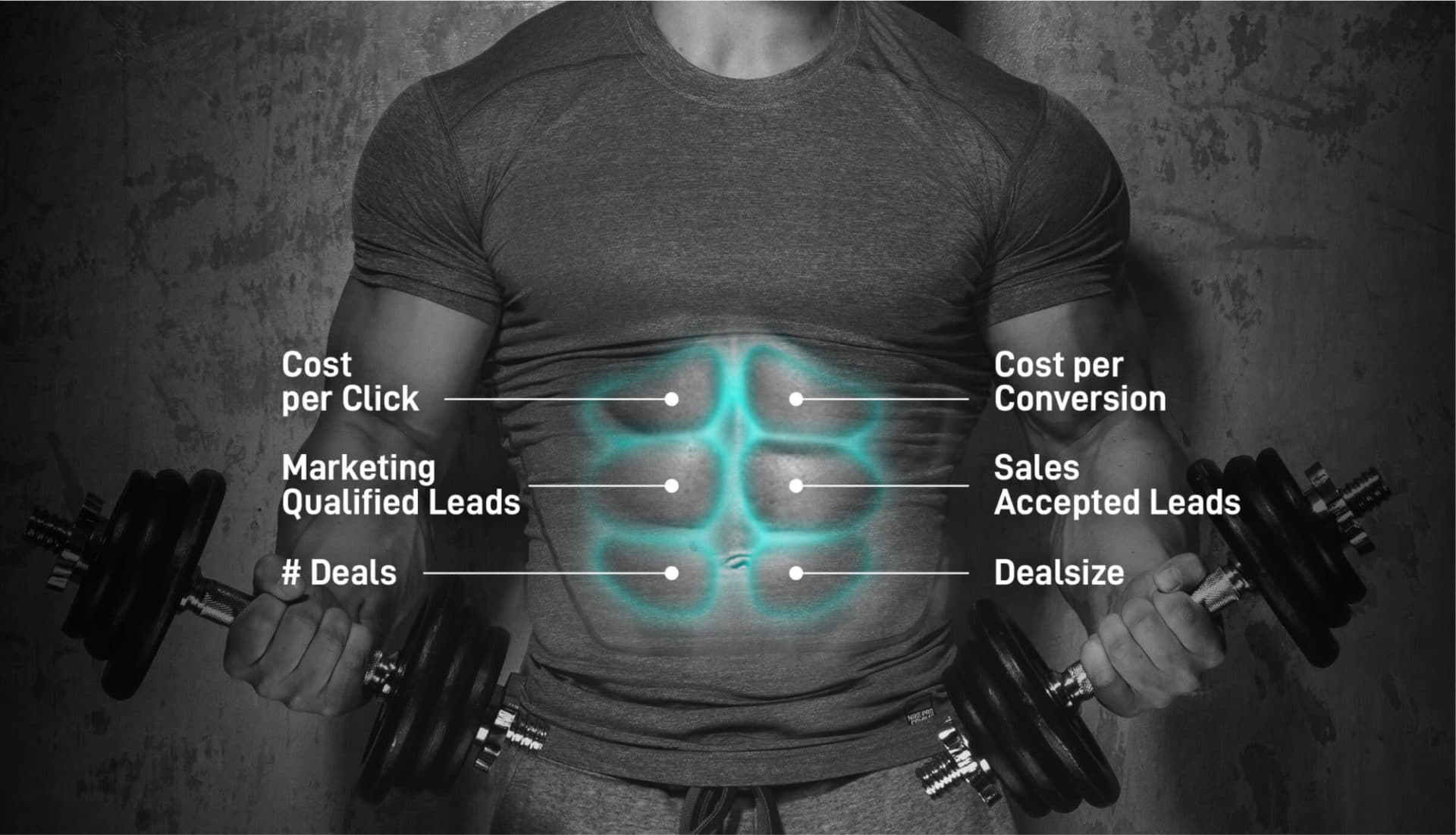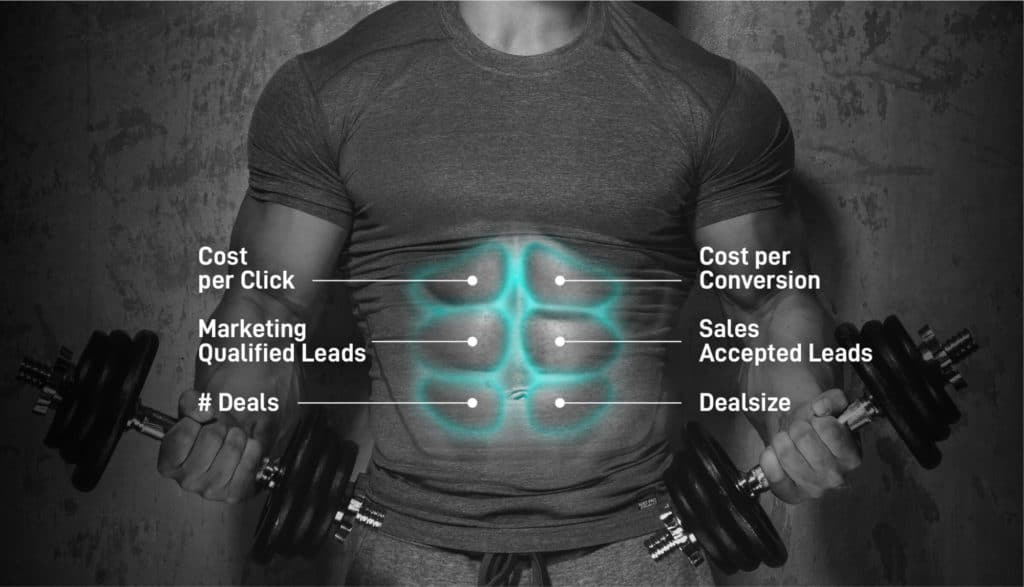 Each of the terms mentioned makes you not only a sought-after discussion partner at the next trade congress, but also a far-sighted business leader. Because they can actually be managed granularly for the denominator of the equation, cost. And even if it doesn't take as long as building up an impressive six-pack – success doesn't happen overnight. A return on investment can only be measured when the revenue actually flows – and with sales cycles of several months, that alone is a challenge.
---
Start with something big: strategic marketing.
But that doesn't matter either. Because let's face it – we'll gladly go the extra mile for a trained six-pack. And what's a six-pack against a strategically set-up campaign that ensures the company's long-term success? "The greatest enemy of quality is haste." No, that's not from me. But from a truly great personality: Henry Ford. Quality is ultimately what separates a normal Friday afternoon marketing strategy from a growth-oriented corporate vision.
I don't know what your plans are for 2021. But maybe treat yourself to a personal trainer for strategic marketing? I wish you a great start to what can only be a better year than the bumpy start to the new decade. Stay healthy!
---
You want to build a strong ROI and invest in your marketing fitness? But you're still missing the right training plan to sustainably put your good intentions into practice? Here you will find a checklist (German) to optimize the vital data of your performance for your individual marketing fitness. Or arrange a non-binding quick check with your personal marketing personal trainer.

---